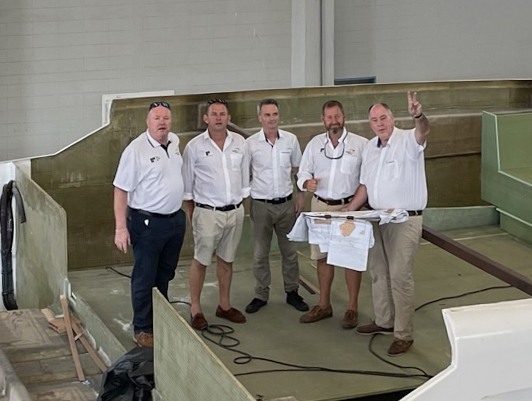 Multihull Solutions visit PMG
Earlier this month, we had visitors from our Australian cooperation partner, Multihull Solutions (MHS). The visit included inspection of the Cora 48 catamarans that are in production. As you can see from the photos, one of the hulls has already been extracted from the mould with the process of building the interior advancing. A third Cora 48 has been ordered by a customer and will be in production soon.
At PMG Shipyard, we are very happy to have a resourceful, serious cooperation partner like MHS. It's a cooperation that strengthens our market position while at the same time offering technical and marketing insight, helping us to maintain our leading position among builders of catamaran yachts.
Onboard the yacht, from left to right, are:
Paul Stamp, General Manager, MHS Phuket
Michael Crook, COO, MHS Australia
Dean Thompson, Production Manager, PMG
Mark Elkington, Managing Director, MHS Australia
Philippe Guénat, Managing Director PMG